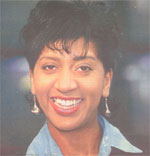 f1st is a company that develop gifts and services to promote special occasions and was founded by Television Presenter Trish Adudu. Trish Adudu has been a working journalist for 11 years and as a sports and entertainment broadcaster has presented on Channel Five ("Five News"), ITV ("Loose Women") and the BBC "Children in Need", after starting her career as producer on BBC's "Grandstand" programme.
Five years ago Trish started her company Prerequisite Ltd to compliment her on screen career, whose fundamental role was to develop new ideas for television and radio. Trish has sold a number of TV formats to ITV, Carlton, and more recently the BBC, for which she won the Royal Television Society Award for Best Sports Documentary 2001 with the BBC 2 programme "Fighting Back: The Michael Watson Story".
However, since the birth of her son, Tyler, she was amazed to discover a massive hole in the market for the celebration of special first occasions in life. Hence, f1st was born.

The Company focus is simple – to appreciate and develop the significance of being first and celebrating special first occasions in life.
Whether it is your first love, first wedding anniversary, the birth of your first child, a baby's first Christmas or a child's first holiday, we recognise these are events which happen only once in a lifetime and want to create memories as special as the occasions themselves.
The idea initially was to develop a range of merchandise to celebrate a baby's f1st Christmas and the initial reaction was astonishing. In just 18 months, Asda worked with us in Christmas 2001 and together we launched a cake to mark a baby's f1st Christmas. The idea expanded and in Christmas 2002 Argos launched a two set jewellery range for couples celebrating their f1st Christmas together.
Now f1st are developing an exciting range of designer merchandise for all of life's special f1st occasions throughout the year. The Company vision will undoubtedly be enhanced by Trish's extensive media connections and innovative media marketing strategies as f1st is fully aware that this concept is not a passing gimmick, but a whole new way of thinking!

"Us Brits aren't used to celebrating the concept
of being 1st, I intend to change all of that!" - Trish Adudu